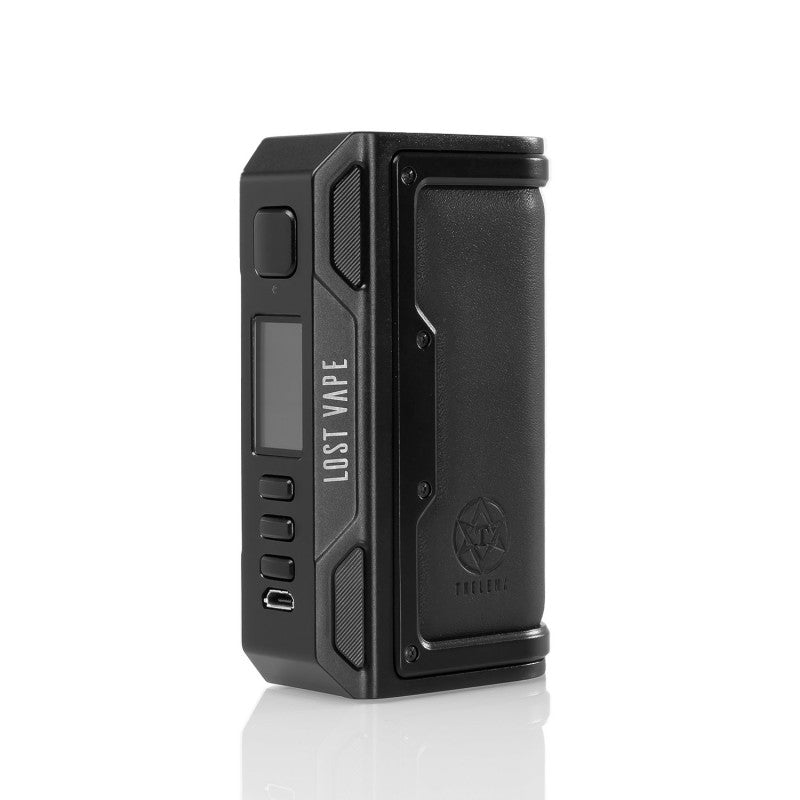 Lost Vape - Thelema DNA 250C Mod
Lost Vape - Thelema DNA 250C Mod
Sold Out
Lost Vape Thelema DNA 250C Mod

T H E   L E G E N D   C O N T I N U E S .
Powered by the top-tier DNA chip and crafted with high-end design and workmanship, the Thelema DNA 250C Mod from Lost Vape is a creative combination of class and style. The Thelema is here and available to offer tremendous range with a maximum wattage output of 200W, powered by two external 18650 batteries. 
Technical Parameters:
Dimensions: 56.1mm x 27mm x 92.6mm
Weight: 200g
Body Material: Zinc Alloy
Power Range: 1W-200W
Battery: 2 x 18650 (not included)
Input Voltage: 6.0V-8.4V
Battery Voltage: 3.0V-4.2V
Output Voltage: 0.2V-8V
Current Range: 0.5A-30A
Temperature Range: 200°F-600°F
Coil Resistance Supported: 0.1Ω-3.0Ω
Coil Material Supported: Nickel, Titanium, SS316, KA1, Ni80, Ni90
Screen Pixel: 0.9" 80*160
FIRMWARE UPGRADABLE - Integrating the newest Evolv upgradable DNA chip, the Thelema DNA 250C features an efficient output range, full temperature control, and coupled with Escribe software for the ultimate technology that combines diversity and capability. 
Replay Mode: Capture the flavor and satisfaction of the "perfect puff" and provide the same level of performance and consistency for all subsequent puffs.
Boost Mode: Briefly increase the power delivery at the start of firing to reach your desired vapor output faster. 
ACCURATE TEMPERATURE CONTROL - By directly measuring and limiting the temperature of the heating coil, the Thelema DNA 250C is able to prevent the coil from becoming too hot and provides a much more stable performance in doing so.
LUXURIOUS AUTHENTIC LEATHER - Inherit the excellent top-notch quality of Lost Vape, the Thelema DNA 250C Mod is built with a range of high quality genuine leathers to make it textured, luxurious, and elegant.
PREMIUM MAGNET BATTERY DOOR - The magnets system embedded in the battery door ensures a snug fit and snaps easily into place. Not only does this create a strong connection between the battery door and mod, it also assures an ultra-smooth release when replacing the dual 18650 batteries.
MULTIPLE PROTECTIONS - Safety protections include atomizer protection, low resistance protection, short circuit protection, overheat protection, low voltage step down protection, and onboard reverse polarity protection.
Box Contents:
1 x Thelema DNA 250C Mod
1 x USB Cable
1 x USB on-the-go Adapter
1 x Warranty Card
1 x User Manual